RSS refers to "Really Simple Syndication" or "Rich Site Summary". It is the mechanism to access the content of a blog or website easily at your workplace. The content (feed) of RSS enabled blogs can be easily read by a no. of applications called feed readers. This means if you have subscribed to a blog's RSS feed, you can read the latest blog entries, posts, new headlines etc in a standardized format.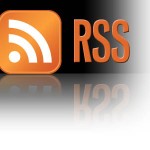 Web Feeds benefit readers who want to subscribe to timely updates from favoured websites or to aggregate feeds from many sites into one place, RSS feeds can be read using software/application called an "RSS reader" or "feed reader" which can be web based, desktop based or mobile device based.
The user subscribes to a feed by entering into the reader the feed's url or by clicking an RSS icon in a browser that initiates the subscription process.
Its Advantages to Readers :
1. No need to visit the blog to read its content. You can subscribe to a no. of sites & all can be aggregated into your RSS reader. Hence you can read all your favourite articles at one place & you can also group them as folders or categories.
2. You can read your blogs (favourite ones) offline. When you were online you can just catch the content through your RSS reader & read it when you are offline.
3. There are various means by which you can read your feeds. These are through mobile device, RSS feed reader standalone application/software, Free RSS reader with My Google, Yahoo, My AOL or through email sent to you.
So on the whole RSS feeds is an amazing option for readers.
The ease of unsubscribing is also wonderful. If you want to unsubscribe to feed than you can do this with a click of mouse. There is an unsubscribe option in every RSS feed reader.
Hope you are clear about it. Subscribe Vast9
Join My Awesome Newsletter !!
Get all the tips, tricks and suggestions directly to your inbox and thats too for free..!!