Facebook is the best social network on the web & probably everyone loves it. We all do a lot of chat through facebook & the ease of chatting through facebook has left all the desktop messengers behind. But some of us sometimes wonder if facebook adds a video chat feature in it, it will be much more fascinating. Weel the  wait for that is over & we all can now really do video & audio chat with our friends on Facebook. We can do this through SocialEyes.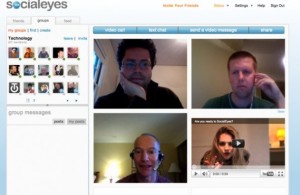 Just go to socialeyes,.com or apps.facebook.com/socialeyes & You will be able to videochat with your facebook friends. In addition, SocialEyes allows multiple chat participants at the same time. Also with multivideo chat, it can support up to nine participants. Though there are tons of websites & messengers offering video chat, but it will be a lot more fun to have it on facebook.
Although Facebook do not needs it neccessary to add video chat feature in itself, but for those who love video chat like on chatroulette, they can do so using SocialEyes.
Hope you liked the post. Do share your views on facebook video chat in comments.
Join My Awesome Newsletter !!
Get all the tips, tricks and suggestions directly to your inbox and thats too for free..!!