This is a guest post by Ann Fleming
Small business owners, Internet marketers and bloggers who recognize and harness the power of social media have come to embrace Twitter. It's being used by these same people to grow and expand their online presence which in turn grows their business.
Smartphones, tablets, laptops, iPads… there are several different ways that people are accessing Twitter daily and you can use this to your benefit and effectively grow your business.
Creating a System That Leads to a Goal
The first step in making Twitter work for you is creating a system; a strategy of sorts to guide your marketing efforts. What exactly are you hoping to accomplish? It may seem like a rather elementary question but there are many different goals – keeping in touch, monitoring niches, promoting your products and services – the list goes on. The clearer you are in your intention, the more successful the effort. Using twitter with an end goal in mind is no different than having a map to get to your desired destination. Make it work for you.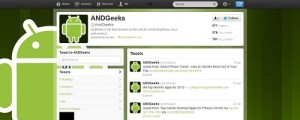 Twitter Profile
This is slightly more important than most realize. Your profile should share the essence of your blog so that you are recognizable in the brand you already created or are working to create. Alternatively, if starting with Twitter before a site, than your site should be similar in design to your Twitter profile. The logo is really most important. In the graphic above if you look at the website and then the Twitter profile, they look similar, this is the type of feel you should aim for it's clear they are of the same site.
As an aside, please be sure to use a real picture on your profile. Nothing is more impersonal than leaving the default Twitter graphic which I've seen more times than I can count. Also, on your profile link to your site and on your site link to your Twitter profile.
Also be sure to effectively use the area where you can write a short bio about yourself and your business which includes a link to your site. The little things go a great way.
Twitter Personality
So, now that you have a system in place and your profile ready to go. You need to decide how you are going to interact with other users. There are more than a few things to consider:
Will you give opinions? Or will you remain neutral?
Will you tweet only about business issues? Or will you also incorporate a personal side? In my experience, both is always a good idea.
Will you handle the account or will you hire someone to Tweet on your behalf? Of all the choices, this one can be the toughest of all. But, when done well, this option can be efficient because it allows you to connect with twitter users and focus marketing efforts but you can have someone handling it for you freeing up time for you to focus your efforts elsewhere.
A contract is a good idea in this scenario so that should something occur later, it is clear that the Twitter account is yours and belongs to you. But, that you simply hired someone to market the account for you.
Following & Re-Tweets
Take some time finding people to follow that share a likeness to your business, personality or both. Don't follow someone just to raise your numbers. Find people you want to engage with, that want to engage back. Inspire them to share your content because it's interesting.
If you read something and find it useful, helpful or even funny, re-tweet aka share, it with your twitter followers. The very idea of Twitter is telling people what is on your mind but more importantly sharing and interacting.
Monitoring #Hashtags
The use of hashtags is important. For instance, if you have a site about health you might use #health as your hashtag. People monitor these hashtags to stay on top of news in their industry or about topics they are passionate about. A perfect example would be you read an article titled, "Canteloupes Recalled due to Salmonella Scare in Ten States," you would want to Tweet that article and at the end use the #health hashtag.
As mentioned in the beginning of this article, people are accessing Twitter from several different devices – from the newest phones to tablets and desktops – keep your information relevant and frequent. Utilizing Twitter applications such as HootSuite you can schedule tweets in advance. And by using the app on your phone you can Tweet anytime, anywhere especially when something newsworthy breaks.
Overall, Twitter really has no rules and it isn't that hard to use to your benefit. But these few tips will help you get started. It might sound confusing at first but, like anything else, the more you do it the better you become at it.
Join My Awesome Newsletter !!
Get all the tips, tricks and suggestions directly to your inbox and thats too for free..!!