Time Trial Softwares
We download a lot of stuffs through internet & its amzing when all that is free. But sometimes we come accross certain cool apps or games which are time trial version & just expire after a certain time period (usually 10 to 15 days); & after that we are requested to buy the licence to use it forever & we can't use it otherwise. Well that's sad! , but what if we are able to use it forever without paying a penny. Great! , How can I do that.
How to use those time trial softwares forever ?

Now if you want to use those time bounded apps forever,  Simply download 'TimeStopper' , a simple yet powerful software which stops the time for that software so that its time trial never expires & we can use those softwares forever.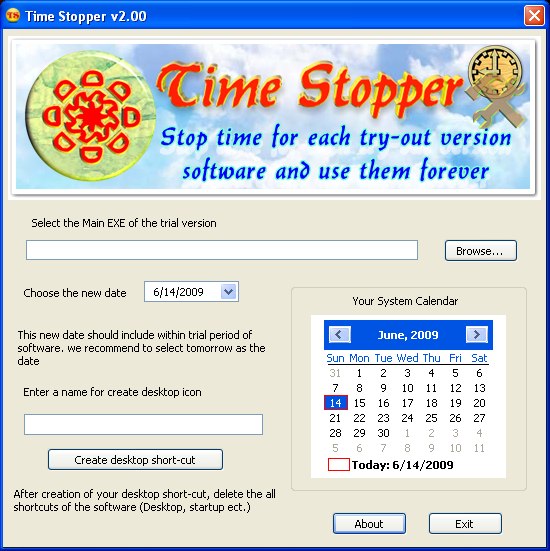 Its too easy to use TimeStopper. Just follow the following simple steps :
1. Open Time Stopper
2.Browse and select .exe of required trial software
3.Choose the new date (Any date which occurs within your software's time trial period before expiration.)
4.Click open software on your selected date Or better create a desktop icon through the field provided for that so that you can directly access the software through the icon you make without using TimeStopper everytime to open the time trial software.
Remember if you have created an icon to the time trial software through TimeStopper, delete all other shortcuts to that timetrial software & always access that with icon you created using TimeStopper.
Where can I download TimeStopper ?
Just follow the following link to the software's author homepage & follow the download link in that page :
Hope you liked the post.
Join My Awesome Newsletter !!
Get all the tips, tricks and suggestions directly to your inbox and thats too for free..!!