Facebook is the best Social Network on the web & it keeps on flooding with new features all the time. But sometimes what Facebook can't do, some 3rd party apps make it happen on Facebook. We are fond of updating our status on Facebook & also sometimes write on our friend's wall. But what if we can update voice status & post voice messages on our Facebook friend's Wall. The BabbleOn app now lets you use your voice on your iPhone, Android or BlackBerry devices to post messages on Facebook.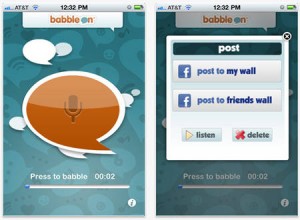 How to Post voice messages on facebook using BabbleOn :
1. First you have to sign in to your Facebook Account through BabbleOn App on your SmartPhone. It will now present you a talk bulb.
2. Press & hold this talk bubble to record your voice, and subsequently post the recorded messages on Facebook.
3. You can, then, choose to post this Voice message on your wall or your friend's wall on Facebook.
You can listen to the recorded message (called  'Babble'), and you have a choice to delete it or start over again before posting it to Facebook. Another amazing feature of this App is it lets you add custom text along with the babble. The BabbleOn app is able to access the complete list of friends on your Facebook account and you can also add custom text to babbles. BabbleOn app is free for download for your iPhone, Android or BlackBerry device & you can download it from the corresponding App Stores.
Also Read : Do Video Chat on Facebook with SocialEyes
Hope you liked this post. Do share your views in Comments.
Join My Awesome Newsletter !!
Get all the tips, tricks and suggestions directly to your inbox and thats too for free..!!