Have you ever wanted your Computer or Mac to speak for you. Here is how you can do that. Some of you might know it earlier but I have compiled all the ways you can do that on your PC or Mac. Just follow the folowing simple steps & there your Computer will start speaking what you write.
For Windows users :
1. Open Notepad
2. write the following code in it :
Dim userInput
userInput = InputBox("Write a message for me to say")
Set Sapi = Wscript.CreateObject("SAPI.SpVoice")
Sapi.speak userInput
3. Save the file with the name speak.vbs or any other name but remember to add .vbs in its end so as as to make it work because it is a VB script.
4. Now open the file from where you have saved it.You will see the following dialog box.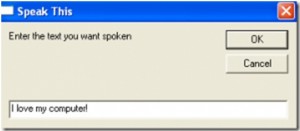 5. Write anything in the text field & click OK. & Viola, your PC will speak what you have written.
There is another method also to make your PC speak :
1. Go to Control Panel.
2. DoubleClick the speech icon & a dialog box will open up.
3. You will see a text box under "Use the following text to preview the voice" . Just write anything in that text field & click 'Preview Voice' & your computer will start speaking what you have written in the Text field.
For Mac users :
This works well for Leopard OS.
1. Open the System Preferences panel under the Apple icon and click on speech.
2. Select the Text to Speech tab, check the option "Speak selected text when the key is pressed," and click the Se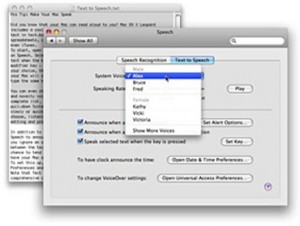 t Key option.
3. Choose one modifier key — Command, Control, Option, or Shift — plus one other key of your choice, then click OK. Now each time you type this key combination, your Mac will read aloud any text you have selected. To stop the speech, type the same key combination again.
Hope you will like the Post.
Join My Awesome Newsletter !!
Get all the tips, tricks and suggestions directly to your inbox and thats too for free..!!