In my previous post, I explained you the procedure to get a free .tk domain. In this post I am going to explain you the procedure to get a free .co.cc domain for your site/blog. If you want simply url forwarding, you can do this for any site by going to www.co.cc & signing up & then going to manage domain —- url forwarding .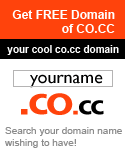 But if you want full dns control or completely embedd your .co.cc domain to your old server then its something different. The procedure for this is different for different sites. Here I am explaining it for blogger :
1. Go to www.co.cc
2. Type for a free domain name which you want to use & check if it is available for free.
3. If yes, then register for it.
4. For setting up the domain, go to setup —– manage domain.
5. Select 'zone records'.
6. In host column write your newly created .co.cc domain name.
7. Leave the ttl column as it is.
8. In 'TYPE', choose 'CNAME' from the drop down list.
9. In the value box type "ghs.google.com", then click setup button.
Now do the following steps in blogger.com :
1. Goto blogger.com, sign in.
2. Select 'setting —- publishing, then select 'switch to : customain domain'.
3. Then select 'already own a domain'.
4. Switch to advance settings.
5. In 'Enter your domain' field, enter your newly created .co.cc domain name.
6. Click save settings.
Now its done.
Join My Awesome Newsletter !!
Get all the tips, tricks and suggestions directly to your inbox and thats too for free..!!