If you care about SEO for your blog, you must start with making an account wih google webmaster tools. It is an essential place for all the webmasters to join. Google Webmaster tools help you know the way your site or blog is ranked in search engines, alongwith with many more features.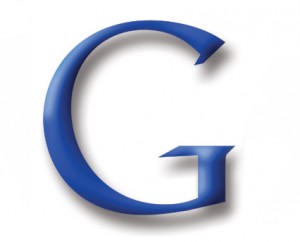 Advantages of Google Webmaster Tools.
1. Webmaster tools can help you find out if Google had problems finding and pages. It will also tell you pages on your site that are unreachable or not found, etc.
2.Webmaster Tools will allow you to see if there are any pages with duplicated titles or duplicated descriptions.
3. This shows all of the links into your website from other pages on the internet.
4. It will also give you the list of the most popular keywords, search phrases of your site or blog.
So, you can see it is quite obvious to add your blog at Google Webmaster tools.
How do I submit my blog in Google Webmaster Tools ?
It is quite easy to submit your self hosted wordpress blog at webmaster tools. Simply follow the following simple steps :
1. Login to Google Webmaster tools with your google account if you have one or create it
here
.
2. Click on 'Add a site' button, enter your url in the box & then click continue
3. Now, on the page that follows, you will be presented with four ways to choose from to verify the ownership of your blog. Here I will use File Upload verification method. Just click on 'Upload an HTML file to your server' & you will be presented with the instructions for that just as in the picture below.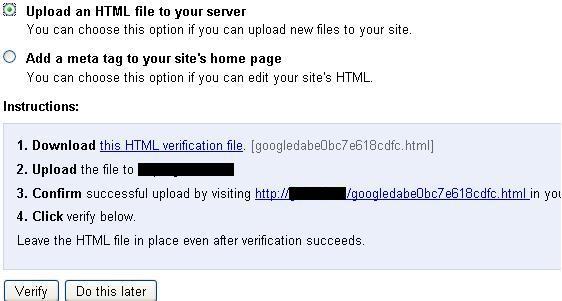 You need to create a blank file (in notepad) and name it as written in the instructions provided. In my case it is ( googledabe0bc7e618cdfc.html). So I will be creating this file.
Open notepad and save it with the above name. And upload it on the root of your WordPress installation using any free FTP client. Or you can directly download the file using link which says "this HTML Verification file".
4.Once you have uploaded it into your root of wordpress installation, click on verify.
5.Now your website verification is done. Enjoy webmaster tools.
If you do not have access to your FTP or you donot want to mess with that, you can install wordpress plugins  like 'All in One Webmaster' or 'Webmaster tools verification' plugins. They will make your job easier, as with them you can directly add your meta key (which you get from webmaster tools) into the field they provide in their options page. This way, you will get verified easily. They also have options to verify your Yahoo Site Explorer & Bing Webmaster Tools account.
Hope you enjoyed the post. Share your views or ask questions in the comments section below.
Join My Awesome Newsletter !!
Get all the tips, tricks and suggestions directly to your inbox and thats too for free..!!