Apple released its new, much awaited, iPad 2 few hours ago, in an invite only event in San Francisco. Its much better than the present ipad by the way of design. But there not much major changes in side it.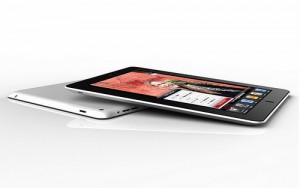 I have collected the list of features thats there in the all new Apple iPad 2 :
1.  Its lighter & thinner than the original iPad. It is just 8.8 mm & 1.3 pounds.
2.It has a front (VGA) & a rear camera (720 pixelr). Not only can you record vides, take pictures, but now you are able to perform FaceTime video chat.
3. iPad 2 comes with an all new A5 dual-core processor which will offer up to 9 times faster graphics processing. With the new processor Apple made clear to everyone that the A5 will not have any greater power consumption than the previous A4 processor.
4. It comes with a smart cover.
The other features like battery life (10 hours), screen size (9.7 inch) are same as in the original iPad. But even iPad 2 lacks any USB ports. That means, you will not be able to connect your pen drives etc to it. Rest it has got a great design & anybody will love it. So it is not a bad idea to buy it, if you are planning for a new Tablet. It will be available in the marketplace from 11th march onwards in US & after 25th march elsewhere.
The starting price is the same at $499 for the entry-level 16GB Wi-Fi only model.
For more info, you can logon to apple.com
Hope you liked the post.
Join My Awesome Newsletter !!
Get all the tips, tricks and suggestions directly to your inbox and thats too for free..!!