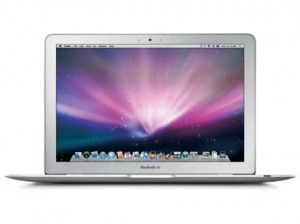 Recently at Apple's 'Back to Mac' event, Apple launched Macbook Air – its new series of notebooks. It comes in 11.6 inch screen & uses solid state flash storage technology, which takes up minimum storage technologies. Macbook Air uses the same flash drive chips as used in iPads, due to its efficiency.
Apple new series of notebooks – Macbook Air has got amazing design. It measures 0.11 inches at the thinnest point and 0.68 inches at the thickest. Apple Macbook Air's battery backup is also great and probably gives 7 hours of battery life and 3
days of standby time.
Apple has also introduced MultiTouch trackpad in Macbook Air. This feature was earlier only in Macbook Pro models. It also comes with Facetime camera which helps in video conferencing. The Macbonk Air has a high resolution LED backlit display and there is also an SD card slot and remote optical drive which makes living without a built in drive much easier.
Apple Macbook Air has many drawbacks to rather than its sexy looks. It has very limited connectivity. The standard hard drive is small and the SSD hard drive is too expensive. Moreover Macbook Air' battery is not user replaceble.
Below are the prices as stated on Apple's website.
11.6-inch, 1.4 GHz, 2GB Memory,
64GB Flash storage – $999
11.6-inch, 1.4 GHz, 2GB Memory,
128GB Flash storage – $1199
13-inch, 1.86 GHz, 2GB Memory,
128GB Flash storage – $1299
13-inch, 1.86 GHz, 2GB Memory,
256GB Flash storage – $1599
Join My Awesome Newsletter !!
Get all the tips, tricks and suggestions directly to your inbox and thats too for free..!!