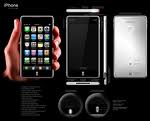 Great News for all iPhone fans, Steve jobs unveiled the iPhone 4 at WWDC 2010. It is filled up with lots of exciting new features.Apple iPhone 4 is a lot more similar to what gizmodo showed us of lost iPhone 4G at RedWood bar left mistakenly by Ray Powells.
It has a Front facing camera which is useful in video chat.
Its battery life of 7 hours (about 40% more than the current version)
It is the slimmest smartphone yet (24% slimmer than current iPhone 3GS)
Its body is made of glass on front & back; & steel around sides; 'like beautiful old Lecia camera', as jobs said.
It has 960 by 640 resolution
It has a 'retina display' as jobs said, with 326 pixels per inch that is beyond the limit of human eye (which is just 300 pixels) with four times the pixel count of previous iPhone models.
iphone 4, iphone OS 4, iphone 4, iphone OS 4,
In fact, the pixel density is so high that the human eye is unable to distinguish individual pixels. Which makes text amazingly crisp and images stunningly sharp.
iPhone 4 introduces a whole new way of multitasking. Now you can run your favorite third-party apps — and switch between them instantly — without slowing down the performance of the foreground app or draining the battery unnecessarily.
You can take beautiful, detailed photos & shoot HD videos (even in dim light) with the new 5-megapixel camera with built-in LED flash. (with backlight sensor & inbuilt LED flash light).
So these were the most pronounced features of Apple iPhone 4. Some features like 3.5 inch screen is same as in the current iPhone 3GS. It has same GSM sim & slot, so it would be better not to call it iPhone 4G.
Also there is new iMovie app coming with Apple-designed themes, titles, and transitions to the App Store for $4.99. It will let you edit and create your own mini-masterpiece right on iPhone 4.
Netflix movie streaming, Facebook's popular game Farmville & guitar hero has also arrived the iPhone store.

Its current prices are :
$199 for 16GB & $299 for 32GB
4,
Hope you enjoyed the post
Join My Awesome Newsletter !!
Get all the tips, tricks and suggestions directly to your inbox and thats too for free..!!