There are a quite a lot of ways to Earn Money Online and People are coming up with new Ideas/concepts to accomplish this every now and then.  When it comes to 'Easy' Money Online, there are a few sites that lets you accomplish this.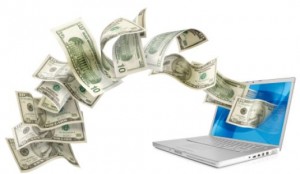 One such site is Dollarupload.com  .
It pays you to share files. Yes, just any file you share online.. be it photos, videos, images, documents, or eBook ..just anything.
DollarUpload.com is a free file hosting site that means you can upload your files at this site and send links or share them with your friends. So far, It is the highest paying 'get paid to upload' site on the internet.
How it works ?
You upload your file to DollarUpload and then get a link to the file from them.
You then share it with others.. your friends.. your blog readers or anyone.
They Open the link and they are asked to complete a short offer before they download your file.
Once they complete that offer, they get the file and You get credited for that download.
Simple, isn't it ?
Not only this, they have a 'Content Gateway' option too, that lets you lock and monetize some parts of your site.
Some Quick Features:
Gateway Statistics Section: The ability to track your gateways and how much you have earned.
File Statistics Section: The ability to help you track your downloads/links and how much you have earned.
Gateway Feature: The ability to create a gateway to protect your website.
Upload Feature: The ability to upload files and links and share them for money.
Files Manager: The ability to track and mirror your files as well as track the number of hits and downloads to each file you upload.
Links Manager: The ability to track and mirror your links as well as track the number of hits and downloads to each link you upload.
File Mirrors: The ability to mirror your dollarupload file to other mirror sites on the network as well as the ability to change between different page designs.
Affiliate Feature: The ability to earn 10 percent of any referral that joins the Dollar Upload Network under your referral link. You can also message your referrals in order to help them make more money which in turns makes you more money.
Premium Accounts: Downloaders are able to buy premium accounts to download files without completing an offer. When a downloader goes to your download page and buys a premium account, you get 30% of the price of the account.
Payout Section: You will be able to see the amount of earnings you have available for payment. Ten dollars is the cash out limit and can be done via Paypal,Payza(Alertpay),PayQuicker, SolidTrustPay, Check, Direct Deposit(U.S.), Wire Transfer(intl), and our DollarUpload Debit Card (Payoneer). Payments will be made net 15 (15 days after the end of each month.)
Quick Payout Section: You can request a quick payout. A 20 percent fee will be taken and most payments are sent out within 24 hours.
In my opinion it is really a cool way to Earn money by sharing your files with others.
You can Read further about it here :
http://dollarupload.com/faq.php
Let me know your Opinions in the comments below.
Join My Awesome Newsletter !!
Get all the tips, tricks and suggestions directly to your inbox and thats too for free..!!