This is a Guest Post By Jasmine.
How would you feel if you had frequently commented on a blog but the author never acknowledged or replied to you? What would you think of a blog which has only one new post every few months? You'd lose interest, right? As such, it is important to engage and interact with your blog readers because if you don't, there is a possibility that they would lose interest and feel unappreciated as well.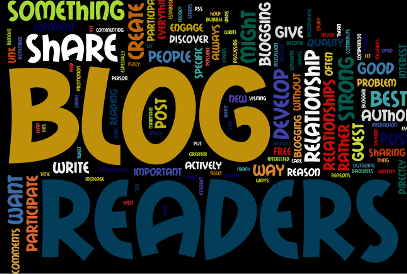 So how do you retain the interest of your readers and keep in touch with them?
Reply to comments

As mentioned earlier, a common turn off to readers is when the blogger doesn't reply to their comments. It is worse if they had asked for your opinion on a subject but you fail to respond to them. You won't like it too if you are being ignored, so make an effort to respond to every comment that comes through.

You could just thank them for taking the time to say something. If there are simply too many comments, at least give a response here and there. At least, your presence will be felt.

Read and comment on other blogs

Bloggers are a closely knit circle; they know one another within the same niche and 'support' each other in terms of blog visiting. It helps to visit other blogs and leave comments just to let them know that you were there. They'll likely return the favor and visit yours too, and from there, you'd benefit from the relationship formed.

Readers from other blogs can arrive on yours and the bloggers can link your site to theirs too, pulling in further traffic.

Connect with your readers

Social networking sites are the craze these days. Everyone has either a Facebook or Twitter account, most likely both.

By having a Facebook or Twitter page, you will be able to reach out to your fans on a more personal note. You'll also be able to share more with them that your blog wouldn't be able to. For instance, you could make short announcements, chat with readers or post amusing pictures that would generate interest or discussion. So, create a Facebook and/or a Twitter and place buttons in your blog so that your readers can follow or "like" you.

Also, due to Growing interest in Google Plus and Pinterest these days, you should also create your and your blog's presence there.

Offer help and expertise

You must be an expert in your niche/field, so gain more fans by offering tips whenever being asked for. Sometimes, you'd get comments asking for advice. Do your best to help your readers out.

If you don't get such comments, you could mention that anyone out there who needs help are welcomed to drop you a line and you would be glad to help. You'd gain popularity and also a reputation for being an expert in your topic of choice.

Blog regularly

Of course, all the interaction and networking mean nothing if your blog is not updated regularly. Readers who constantly drop by to see what you have to say would lose interest if they don't see anything new for some time. After all, if they've made the effort to visit your blog, they must have strong interest in what you have to say.

The best frequency is once every 2-3 days, else once a week is fine too. You could also set a publishing schedule so that a post will be uploaded on the same day of every week. This way, your readers know when they can expect something new from you each week.
Unless you intend to keep your writings to yourself, you wouldn't go far as a blogger if you don't keep in touch with your readers. You have learned 5 ways you can do so, therefore it is time to turn those suggestions into action.
Happy blogging and interacting with your blog readers!
Do Share your thoughts on how you keep in touch with your blog readers, in the comments.
Join My Awesome Newsletter !!
Get all the tips, tricks and suggestions directly to your inbox and thats too for free..!!