How to Make Money Blogging ?
Now this is a widespread question among all the newbies out there and I get dozens of emails every day from people asking me how I make money blogging and how can they too.
Well, Making Money Blogging is not a difficult thing. Yes, that's right and there's a lot (thousands) of people who are earning a full time income through Blogging
I post a lot of tips and strategies here at Vast9 to help you with blogging but I was missing a complete guide that can help out anyone, new to blogging, to know how a blog can help them make money and how they can too start making money blogging. So here I am with my Complete Beginners' Guide to Making Money Blogging.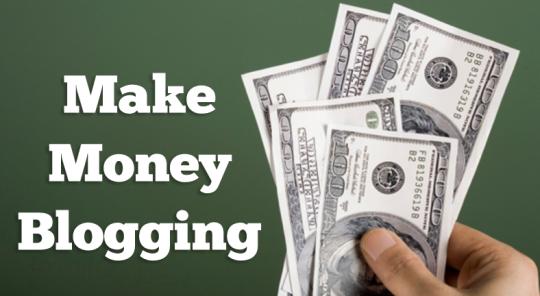 So without wasting any time, lets get started. But before we get any further, you first need to know what a blog is ?
What is a blog actually ?
A blog is simply a website with regularly updated content. In a blog you write and publish posts about your niche and they are shown up in a reverse chronological order on your blog.
I started my blogging journey 4 years back when I created my first blog on blogspot platform. I grabbed a free .co.cc domain name and mapped it to my blog.
During the course of two years, it became quite successful and I was earning a lot from it. So I decided to move on to a more professional blogging platform 'WordPress'. I bought a top level domain name www.vast9.com ( the one you are reading now ! ), grabbed the best hosting for my wordprees blog (Get it Here) and transferred my posts from my blogger blog to this new one.
Its been almost 2 years  after that and Vast9 is a well established blog now. I never blogged for money, but I love to share my knowledge with others and so I have maintained this blog well ( Not to mention that Vast9 has become a constant source of income for me ).
Now How I to make money blogging ?
Making money through a blog is not difficult but it requires a lot experience. Firstly your blog needs to be getting constant traffic (unique visitors). There are many ways to get traffic online and one of the biggest and most reliable source is Search Engines. For this you need to learn more about Search Engine Optimization.
Checkout these posts first :
5 Basic Tips to Get More Traffic to Your Blog
5 Great Tips on Using Google Images to Drive Traffic to Your Website
SEO Tips for Success and Improved Search Engine Ranking
Once you start getting traffic, you can monetize your blog through the following ways :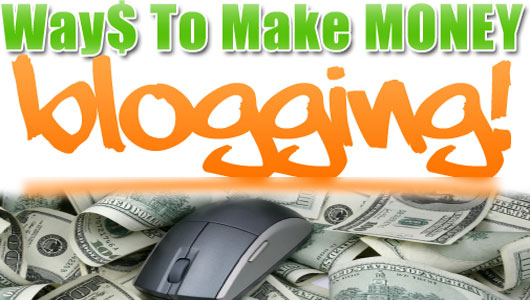 #1. How To Make Money Blogging? :
PPC and PPM Ad Networks
Pay Per Click (PPC) Advertising :
The best (and easiest) income source for bloggers (especially those who are just starting out) are PPC ad networks. A PPC Ad network is an advertising program in which ads are placed on your blog and you are paid whenever your visitors click on the ads. Simple, isn't it ? And Totally Passive. You just put the PPC ads on your blog (inside the content, sidebar, header or just anywhere) and then see the money coming in. But hold on, It do requires you to get traffic to your blog.

The best PPC network, without any doubts, is Google Adsense. It is the highest paying network and shows content related ads only.  There are many alternatives to Adsense but most of them either pay too low or have less relevant ads. Some good alternatives to Adsense are Chitika, Adbrite and Bidvertiser etc.

Pay per Thousand (PPM) advertising :
If you have a huge traffic blog, you can use this type of advertising network. In this, your are paid based on the number of times the ad shows up on your Blog (i.e, you are credited for the pageviews the ad gets and not the clicks).

Some good PPM networks are ValueClick,technorati media and tribal fusion.
#2. How To Make Money Blogging? :
Affiliate Marketing
This is the most Lucrative way to make money online and if you have a blog, it is a plus. In this you recommend 'useful and relevant' products to your blog readers and if any of your reader buys that product (through your Affiliate Links, you earn a commission).
You need to have a good readership for your blog to promote affiliate products and make sure you promote 'useful and relevant' products only (Yeah, I know, I repeated this line but that's the only way I can put stress to it).
Read This Post if you want to Start Earning money Online as an affiliate marketer : What is Affiliate Marketing and How to Start With It ?
The most famous Affliate networks are ClickBank, Commission Junction, ShareaSale etc. You can also join Amazon or Ebay affliate network and earn a percentage of the sales made through your affiliate link.
#2. How To Make Money Blogging? :
Flat Rate Advertising or Direct Ad Sales
You can sell out certain space on your blog to interested advertisers. The advertiser will pay a flat payment on a monthly basis based on the price you decide, to put his banner ad on your blog. Your blog needs to have a good fan base, traffic, PageRank etc to attract advertisers otherwise you will rarely be able to sell direct ads from your blog.
If you want to sell banners ads, BuySellAds makes the process a lot easier. However, they take certain amount as commission from each ad space you sell from your blog. If you are reluctant to share your revenue with them, you can try Plugins like OIOPublisher or CrankyAds that makes the whole process a a lot simpler (and without keeping any commissions).
#4. How To Make Money Blogging? :
Sponsored Reviews and Posts
Again If your blog have good Fan Base and traffic, you can get requests from advertiser to review their product or service on your blog. That means you are paid for writing reviews for someone's product on your blog. Many a times the advertisers will agree to pay you affiliate commissions too for that product's sales through your blog, apart from the fee you charge to review.
Other times, Website Owners may also contact you to promote their site on your blog (in the form of a complete promotional post or a mere Backlink to their site, inside your post).
Some companies which make this process simpler and connect advertisers and bloggers are ReviewMe and PayperPost.
#5. How To Make Money Blogging? :
Selling Your Own Product or Services
If you have created your own product or you provide a service (within your blog's niche), you can start promoting those in your blog. In fact, you can skyrocket your product sales and get a huge number of ongoing clients for your services, if you have a well established blog. You can create posts around your products and services, You can email your newsletter subscribers about that, Or You can list those in your sidebar and see the leads coming in.
There are many famous bloggers out there who are utilizing this to the fullest. One good example of such a popular blog is Copyblogger. Go, see what are they promoting !
#6. How To Make Money Blogging? :
Converting your Blog to a Membership site
This is a great way to earn a residual income from your blog. If you are expert in your niche you can create some premium content (posts) that are not available directly to your normal readers but only paid members can access those. One way to achieve this to create password protected posts (this is easily achievable from your wordpress post edit page) and then charge a membership fees to your readers to access those posts. Other way is to use premium plugins like Wishlist which will instantly convert your wordpress site to a full featured membership site. You can also offer some premium products or services to the paid members.
Another way to utilize the membership feature is to start a private forum in your niche with lots of useful content and then charge a membership fees to anyone who want to have access to it. One such example is Problogger.com Community which charges $5.95 per month to get inside.
#7. How To Make Money Blogging? :
RSS Advertising
If you have a blog, you would also be having a feed for sure. You can Place PPC ads in your feeds like that from Adsense or can also sell flat rate advertising (through BuySellAds etc). If you have burned your feed through Feedburner (which is highly recommended to track stats and all that), you can easily add your adsense ads in it.
Check out Vast9′s Feed for example.
#8. How To Make Money Blogging? :
In-Text Ads
Yet another way of monetising your Blog is through In-Text Advertising. You might have seen these ads on many blogs (mostly on some small new blogs). These are links with double-lines below them within the post content and when you hover your mouse over them, an ad pops out from there. The reason why most blogs don't use them is because they pay a bit low and rather annoy readers.
I would not recommend using these ads, however you can try if you wish. The best Providers of In-text Ads are Infolinks, Kontera and Vibrant Media
#9. How To Make Money Blogging? :
Job Boards
This one needs your blog to be highly popular . People in your niche can pay you to list their job offer in your job board to get freelancers. There are many such blogs which are earning a residual income through this.
One great example of job boards is Problogger's job board
#10. How To Make Money Blogging? :
Accept Donations
You can also give a try to accepting donations on your blog. This one is little outdated and people, now  days, are reluctant to donate out from their pockets. However, If you are blogging for a cause you can get some extra bucks through donations.
---
So these were some of the best methods to make money from your blog. There are  few other methods too, which you can try like Blog Images advertising etc. And there are a few other methods which I will suggest you
not
to try like popup ads (because it annoys your readers and pay too low) and text link ads (because it will affect your google rankings adversely).
---
How do you Monetize your Blog ? Do this list helped you ? Do share you insights on Making money blogging in the comments.
Join My Awesome Newsletter !!
Get all the tips, tricks and suggestions directly to your inbox and thats too for free..!!