Except some publisher networks(Google Adsense, Chitika etc), all other pay low. Some good alternative to adsense are adbrite, bidvertiser etc but their pay rates are too low. Though they have less strict policies than adsense.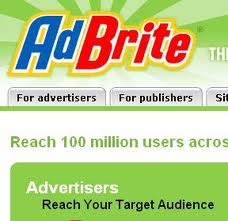 Here I got a method for you all to increase your adbrite earning. If you have adbrite you may have seen that they allow you to edit their ecpm . This puts you in benefit. ecpm is the max. bid of an ad by an advertiser, in other words it is the min. amount of payrate of an ad that will be displayed on your blog/site, i.e. if you set a max. ecpm of $0.50, then ads of payrate more than $0.50 will be displayed.
Now if you have other ad publisher account with some other ad network (like Goolgle Adsense, Bidvertiser) you can set adbrite's ecpm to more than your alternative ad network's ecpm.
Like suppose you have an adsense account. Let it display ads of max. ecpm $1, than you will set your adbrite's ecpm to more than that, in this way only ads of of payrate more than $1 will be displayed, & you will be credited heavily for each click. But their is a problem, where google shows ecpm as the advertiser bid without displaying its own share, Adbrite show the actual ecpm including their share. They pay after taking 30% share from advertiser. Therefore, in the above example you dont have to set max. ecpm of $1 in adbrite but you will set 30% increment of it, i.e. you will set it to be $1.30. In this way you will earn great. Check it out & give your responses.
To know how to edit their ecpm click here.
Join My Awesome Newsletter !!
Get all the tips, tricks and suggestions directly to your inbox and thats too for free..!!