Update : Blogspot has officially added a new page feature to add pages directly, so no need to read the following workaround.
For a web site or blog, to look professional, static pages are of great importance. WordPress provides an easy way to add multiply pages but blogspot don't have
any direct option for that. This creates a problem for bloggers using blogspot as there platform.
Well, there is a simple solution to it. By using
your posts you can easily create pages, i.e the pages will not actually be pages but they will seem or appear to be.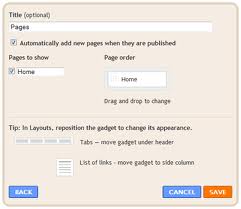 Just follow the following simple steps :
1. Create a new post in blogger.
2. Fill the title & body of post as you want your page to appear.
3. At the bottom of the post page, you will find "post options", click that.
4. Now select allow or don't allow coments as you want. Generally, comments look irrelevant in pages so you must choose "don't allow comments".
5. Now change the date to an old one, usually the one earlier then when you created your first post.
6. Now click publish post.
You are almost done now. You can see that the basis of this procedure is backdating of post. It has many benefits like — your post does not appear in your feeds or newsletters, one will rarely find your page through blog archive as it is much earlier. Moreover your page will look like a page than a post.
Now you have to hide date from the page footer. For this follow these steps: (i am assuming that you have choosen "don't allow comments)
1. Go to layout —> edit HTML.
2. Choose "expand widget template"
3. Now find

using ctrl + F or manually.
4. Before this code, write



5. Now after post date line enter –>  "

5. Now after post date line enter –>
The above code commands to show date of only that posts which allow comments. This means your page will not contain any date footer & thus will look more professional.
Now, you can put that page link anywhere like in side bar, in other websites or if you want to put it in the navigation bar in the top of blog like in wordpress or like in most other websites then click here to know how to add elements in top navigation bar in blogspot
Join My Awesome Newsletter !!
Get all the tips, tricks and suggestions directly to your inbox and thats too for free..!!