You may have heard of the word "ebook" many times while surfing the net or otherwise. Well, ebook is a short name for an electronic book. As the name suggest, it is the electronic version of a book that can be read by using a PC or smart phones or dedicated hardware devices known as ebook readers. Moreover now a days, most mobile phones come integrated with ebook readers. A whole book can be written in the form of .txt or pdf formats & is termed as ebooks.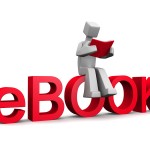 Now, after you have got to know much about it, the question comes how we can earn money through it. The answer is simple & many people are earning huge money this way. All you have to do is create an ebook ( click here to know how to create an ebook ) & sell it all over the internet through ebay, amazon, craiglist, yahoo classfied, etc or simply from your own site or blog.
Sounds difficult!!
Don't worry, there are
millions of people who are fond of buying ebooks. Just tell them the worth of your ebook.
For this, you only need to have knowledge about something. For better results, try to write on some burning topics or something for which people are dieing to get. You can search the net for a great article, gain some more information about it, & then write it in your own impressive words in the form of an ebook.
Then you can rate it as you wish. Try to rate it low ($1 to $3) in the beginning, then as your customers grow, increase the rates. Thus you can see, how easy it is to monetize ebooks, especially if you have lots of subscribers to your site/blog. The main thing, you must take care, is to promote your ebook as much as you can.
Apart from earning you money, ebooks have other great advantages. Click here to know the advantages of ebooks.
Join My Awesome Newsletter !!
Get all the tips, tricks and suggestions directly to your inbox and thats too for free..!!