Planning to start a blog but confused which background colour to choose. Well, then never go for dark colours, especially black. It is a matter of fact that black coloured blogs looks cool but they are rarely read by visitor. A visitor will come & see your blog, will say, "Wow man, what a nice looking blog" & then after a while the visitor will navigate away & will forgot your blog (unless you get a lot of traffic from search engines).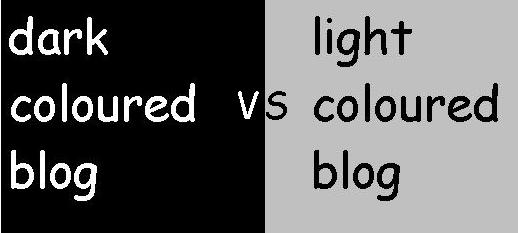 Ok, many of you will disagree but beleive me, I too disagreed at first (when I started blogging) but when I compared my blog's page views & bounce rate before & after I switched to dark coloured background; I was really amazed. I saw a huge fall in the number of page views & a significant rise in my blog's bounce rate. I was having almost the same amount of unique visitors, but the number of pages & posts they browsed on my blog were less. That thing completely changed my point of view. I then changed to the present colour (white) of my blog I gradually started to get nearly the same pageviews as before applying the dark theme (Infact my blog's pageviews were more than ever before).
I then tried to remember any blog posts I have read from a dark background coloured blog & found that I have hardly read any & donot remembered some. Well you can set your sidebar's, header's or footer's background colour as black or any other dark colour but much preferably your post's background colour should be light (go for white especially)
Hope you will consider this thing & also share your opinions in the comments.
Join My Awesome Newsletter !!
Get all the tips, tricks and suggestions directly to your inbox and thats too for free..!!