Yes, Vast9 is back again and this time with a lot of new and exciting stuff. Well, It was here only but I have not updated it with any post from a long time (2 months, I think). Thats pretty sad, and I apologize to all my readers for the same. But from now onwards, Vast9 is going to enter into its next level (or next world
).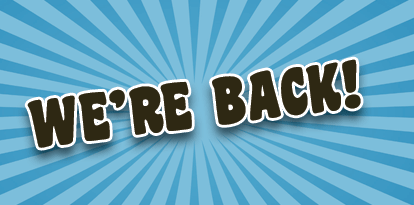 Whats new in it ?
Well, It has got a new design (which you all must have noticed), a better host (or say, a much better) and a complete makeover from scratch.

Lets jump into the details :
Vast9 now run on thesis framework. I was always a fan of Thesis from the beginning but Its a pity that I didn't implemented that for my blog earlier. I was earlier using Calotropis wordpress theme and it is the best free theme I have ever found that offers amazing flexibility and many options. However It cannot compete with Thesis which gives wordpress a complete new dimension (Yes I am feeling it..!). Next, I decided to design a custom skin for my thesis framework but then I came across Kolakube which caught my attention and I feel It has the best collection of skins for thesis. And so I picked up my current skin from there. There may be a few bugs here and there and you might have noticed them, but I am trying my best to clear them by the earliest. What you all feel about my new design ? Share it in the comments.
Vast9 has shifted to Hostgator hosting – The best hosting so far. Who don't have heard of Hostgator ? Is there anyone..??   I was earlier using 1and1 hosting for my blog and they were good (not the best). But there support was horrible. They reply too late through email and most of the time wrote me to call them for support. Furthermore their phone support also sucks – Available only from Mon – Fri from 9 AM to 5 PM. What If I needed help at 6 PM ? But I didn't bother this until I went into serious problem with them (a Paypal Billing Issue). They locked my account and I was not able to access my FTP and was also not allowed to shift my domain elsewhere. It took me nearly 3 weeks to get me out of this (I had to call them dozens of time for this). Finally I got my account back and the first step I took after that was to shift to hostgator. Now Lets talk about what I felt about this awesome host. Hostgator is really the best host, (especially if you want to run wordpress) and the thing which make them stand out from most of the other hosts is their fabulous support. They are always available through live chat and reply enormously fast for almost any issue. It was like I was rewarded with a slave (their support team), I just order them and its done. They migrated my blog from my previous host for free and even helped me with all the issues I was facing with my database and files.
Vast9 now offers its Awesome Newsletter for its readers. All of my readers will be able to get the insider access to upcoming stuffs and other great Blogging Tips, Online Marketing Strategies, IM Ebooks, softwares and a lot more of freebies that you will definitely enjoy. So, make sure you are subscribed to the Newsletter.

Subscribe by filling the form below and get the best stuffs directly to your inbox (I hate spam as much you do) :
Where was I all the time ?
Good Question. What I was doing all the time and why I have not updated this blog from so long ? Well, There are a few things that kept me from updating this blog :
I was having my exams. As you might be knowing, I am an Engineering student and so I also need to catch up on my studies. But My exams got over and What I was doing in my summer vacations ? Read on to know (Nothing amazing though!)
I was having conflicts with my host (as I mentioned earlier in this post) and that made me to shift to hostgator. This consumed much of my time. But still there was something that made me reduce my focus on my blog.
Niche Sites : Yes you heard it right ! I was working on my Niche Sites. I started creating mini sites a few months back (well, more than a few) and I am glad that the results were so good. Most of my mini sites are now on the first position of google for their main keyword (and even for their LSI) and that has helped me to generate a good revenue both in clickbank sales and Adsense. I have split tested and tried several SEO strategies for my niche sites and I am quite happy that I have successfully got my hands over certain cool strategies that ensure my rankings to the first position. And I will be sharing those strategies, and steps to implement them, with you all (My readers..!).
One more thing, Vast9 now allows guest posting from all passionate bloggers. If you can write well on topics like Blogging, Internet Marketing, Social Media and SEO, you are more than welcome to publish your guest post here. This will help you gain readership, link juice and much more. Refer Guest Posting Page for more info.
Thats all for today, But as I said earlier – There is lot more to come, So stay tuned…!!
Remember to share your views, about the new design, in the comments below…And where were you all these days ?
Join My Awesome Newsletter !!
Get all the tips, tricks and suggestions directly to your inbox and thats too for free..!!